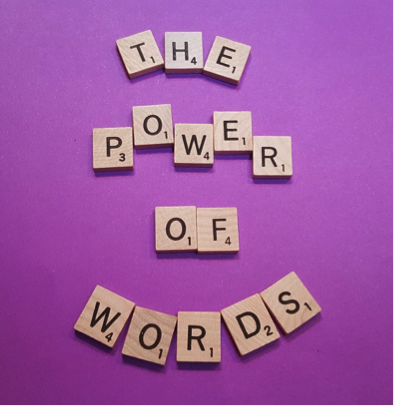 Did you know the words you use become the actions you take?
If you truly want to embrace your uniqueness….
If you truly want a business and a life you love….
If you truly want to experience different results in your business and your life…
…then definitely keep reading.  One of the most significant truths I've learned is that we are far more powerful than we know.  Another truth is this; the words we choose to speak have a very powerful impact on our actions, experiences and results.
Yes, you have the power to determine positive or negative results and you can do so with the words you choose to use.
Here's the thing – when we use positive, empowering, motivating words in our thoughts and in conversations with others, our subconscious believes them to be true.  Much like the way our subconscious accepts the "truth" about what we're seeing in a movie or in reading a novel.  Our subconscious is not able to discern the difference…which is why we laugh at a funny line in a movie, get choked up in a touching scene or have the beejesus scarred out of us by Stephen King.
In much the same way, the words we use have the power to influence our daily experiences.
You may not be experiencing the results you want in business and life relationships. By changing a few simple words or phrases on a daily basis, you can shift from dreaming your dreams to living your dreams.
Intrigued? Great!  Here are three examples of words for you to starting using right now – words that are empowering, inspiring and can have a tremendous impact in your future.
And if you want to 2x's, 5x's or even 10x's your results, share this with those that are close to you, so you can help each other become more powerful and celebrate your success along the way!
Switch #1. Replace "wish" with "believe"
Wishing and hoping (wasn't there a popular song by that name?) keeps us in the "maybe" mindset.  If I wish or hope enough, maybe it will happen.  Wishing lacks strength and power.  Again, there's an absence of conviction.
The "belief" in something is the springboard for achieving it.  That's why it's so important.  When we "believe" we create and cause conditions, events, or circumstances to occur.  The outcome is dependent on whether we believe that we can or can't.
I love this quote from Denis Waitley; "Belief is the ignition switch that gets you off the launching pad."
When you stop wishing and start believing, you're accessing your power.
Switch #2. Replace "want" with "plan"
To "want" is vague, non-directional, could imply or suggest lack – either unable or unattainable. The word "want" is also used as a protector or shield.  Without conscious thought, using the word "want" prevents us from experiencing disappointment or failure.  If it's merely a "want", there's no real importance or significance attached to it so if we don't get it, we won't be disappointed.
When we replace "want" with "plan", the implication is "I have a plan. I know what action to take." It's coming from knowledge, conviction and strength. It suggests a strong intention and focus.  It's empowering and motivating. It also gives us the joy of experiencing anticipation, looking forward with confidence.  That's powerful!
Notice how you feel when reading these sentences.
I want to have a successful business.
I plan to have a successful business.
See the difference?  All you did was switch one word.  That's the power of words!
Switch #3. Replace "have to" with "excited to"
For most of us, the "have to's" in our lives are not something we're enthused about, look forward to or anticipate.  "Have to" suggests an obligation, drudgery, boring – and all of those words are low energy words. And, if this isn't enough, we exacerbate this by tending to postpone, put off, procrastinate and bemoan the mere act of doing it which further diminishes our energy.
Think of a time you were "excited to" do something.  What was your mindset? Mood?  How was your energy, interest and desire?  Were you motivated? Of course, you were!
To give your energy an extra boost, when switching "have to" with "excited to", say it out loud and with conviction. You'll feel more energetic, engaged and excited.  I know it may sound a bit silly or woo woo, and that's okay.  I also know it works – the power of the words.
My hope is that you will not stop here.  I invite you to set this intention: over the next few days, take note of other possible words switches you can make that will replace disempowering, undermining, low energy words with words that light you up, engage your creativity and ignite the fire to propel you into action so that you can experience the results you want in business and in life.
Would you like to learn more tips, strategies and secrets for having a business and a life you love?  About making more by working less?
If so, then step into my sphere of influence by joining my Facebook group – Loving Your Business and Your Life – where you'll meet tons of like-minded women entrepreneurs who are ready to step into their uniqueness, claim it and monetize it, so they can have a business and a life they love.  Yes, you can have both!
One of the benefits of being a member is that you can join us live for Fabulous Feature Friday where one of our members is featured on a live call.  This happens each Friday so be sure to join the group so you can participate in this Friday's call and have direct personal interaction plus each expert has a special gift for you. Can't be on the live call?  No problem.  Just post your question in the group, it will be answered on the call and then you can listen to the replay.  It's totally easy, fun and fast – just 30 minutes and it's a wrap!
I'll see you on the other side.
Remember, the world needs the gift that is uniquely you!
Disclaimer: My vision is to help you discover your uniqueness, claim your strengths and be more of who you are. As stipulated by law, I cannot, and do not, make any guarantees about your ability to get results or earn any money with the ideas, information, tools or strategies you learn here. Your results are completely up to you, your level of awareness, expertise, the action you take and the service you provide to others. Any testimonials, financial numbers mentioned in emails or referenced on any of the web pages should not be considered as a promise of potential earnings. That being said, I believe in you and am here to support you in making the changes you want for your business and your life, and to give you methods, strategies, and processes that will help move you in the direction of the life you dreamed of living when you started your business.